News
NEW LARRIVÉE LEATHER WARES by KOCH!
April 15, 2017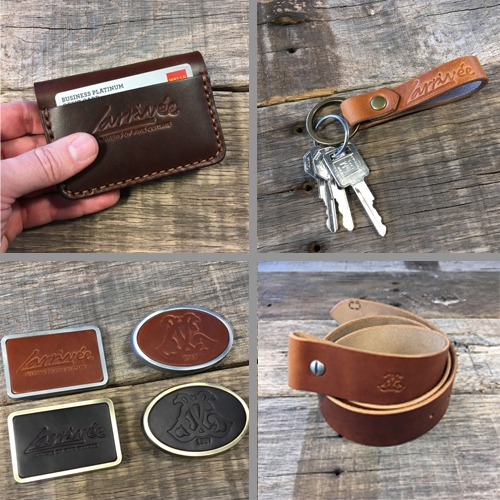 Our leather line by KOCH Leather Co. has now been expanded! Our leather wares are all handmade, hand stitched in the beautiful state of Arizona, USA, using only 100% Horween leather from Chicago. All hand stitching is done using Ritza 25 waxed Tiger Thread for highest quality and durability, nice and sturdy for durability that lasts years to come.
Visit the Larrivée Authentic leather page now and see what we have to offer.
THE GROUP OF SEVEN GUITAR PROJECT
March 13, 2017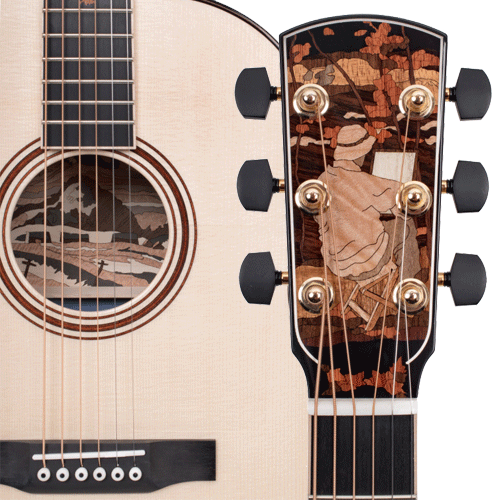 This summer, the McMichael Gallery of Canada will be celebrating it's 50th Anniversary. Larrivée is proud to be part of this celebration by participating in The Group Of Seven Guitar Project. The project, started by Linda Manzer, is seven unique guitars built by seven unique luthiers, each paying homage to one of the original Group of Seven artists. The seven luthiers consist of Jean Larrivée and six former protege's: Linda Manzer, William "Grit" Laskin, George Gray, Tony Duggen-Smith, Sergei de Jonge, and David Wren. Each of them remarkable master luthiers in their own right today.
To view Jean Larrivée's contribution to the project with homage to A.Y. Jackson, have a look in our archive here. For Brad Wheeler of the Globe And Mail's interview with Linda Manzer and her fascinating story of how the whole project came together click here. Finally, for a direct link to the McMichael Gallery 's Group Of Seven Guitar Project click here then scroll down. The show will run from May 6th until October 29th 2017.

50th ANNIVERSARY LIMITED EDITION!
January 13, 2017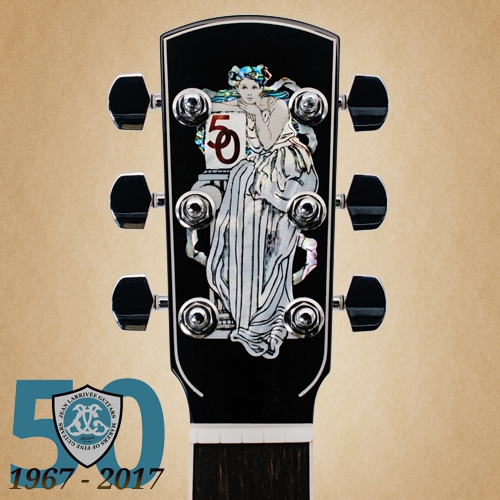 The Larrivée family is proud to announce specs and details for our 50th Anniversary Limited Run and upgrade packages. The first of our 50 piece limited run will be available for viewing at this years NAMM show taking place in Anaheim starting on January 19th. We can be found in Hall E • Booth 1401
COMPLETE IMAGE & SPEC DETAIL PAGE CLICK HERE!
LV-10 50th Anniversary Limited Edition
• Master grade Indian Rosewood - Jean's reserve
• Alpine Moon Spruce top - Jean's reserve
• Tops are hand voiced by Jean Larrivée
• Alpine Moon Spruce Bracing handmade by M.Larrivée
• Commemorative Headstock Inlay by Wendy Larrivée
• 196pc Mother of pearl Celtic knot fretboard
• Matching Celtic knot bridge inlay
• Abalone Fretboard Extension
• Limited Edition laser etched head block
• Certificate signed by the Larrivée Family
• Retail Price $7498
• Larrivée will handle all CITES / US Fish and Wildlife fees for International Customers.
Larrivée Leather Accessories by KOCH!
December 21, 2016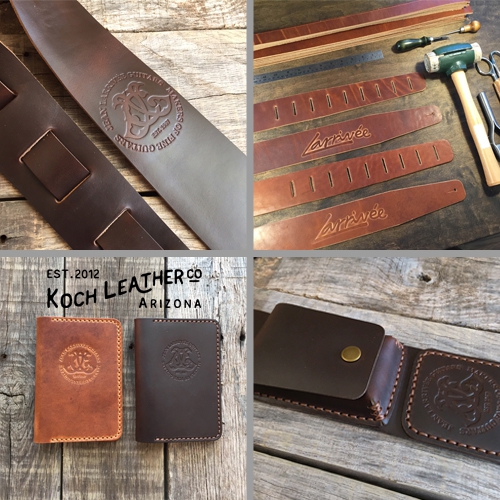 are happy to announce the launch of our complete line of Larrivée and JCL leather accessories. We searched North America for the finest leather crafters around and we found the KOCH family in Eastern Arizona. All KOCH leathers are precision hand-made, hand-stitched using ONLY 100% Horween leather of Chicago.
We chose Josh & Jen Koch for two reasons, the first is obvious, their product quality is absolutely incredible. The second reason, their business philosophy. Similar to Jean Larrivée, Josh & Jen want to put their high-end products in to the hands of everyday people at an affordable price, and it shows. Not many businesses can say that today.
Our entire line was designed by Larrivée and the Koch family, for Larrivée. Two families of artisans coming together to bring you a spectacular product that is personal and remarkable. Please visit the Koch Leather Co. website and see why we partnered with the Koch family.
All leather products are available through LarriveeAuthentic.com
PUT ONE IN YOUR HANDS
October 24, 2016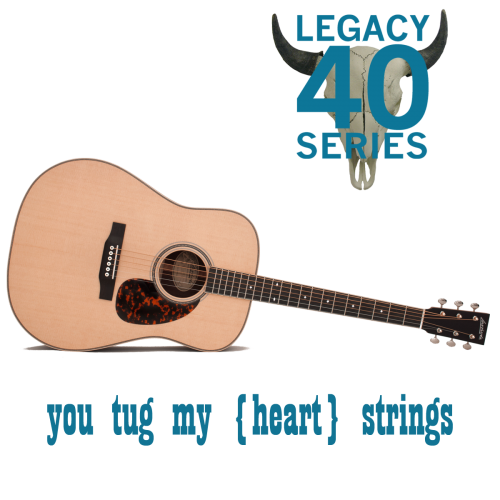 The 40 Legacy Series has taken to the hearts of players both contemporary and traditionalists alike. While maintaining our unmistakable tone, we have managed to deliver a spirited dynamic bass response through our new, non-symmetrical scalloped lateral cross-bracing system. What does all that mean? The Larrivée 40 Series packs a punch with it's gritty, "low-end growl". OM-40 review. D-40 review.
Built in America using only the highest quality materials, the 40 Series is our hottest selling guitar. Available in Rosewood and Mahogany as standard, custom wood options are always available. Keep an eye out for limited runs through select dealers and as we head into new seasons as well.
For complete specs, check out both the 40 Mahogany Series and the 40 Rosewood Series.
Nobody Does It Like Jean!
September 13, 2016
When it comes to sourcing the finest tonewoods in the world, nobody can pull it off like Jean Larrivée.
He is a master guitar maker with a passion for traveling the globe in search of the finest fibers. Whether it's clambering through the jungles of India for Rosewood and Silver Oak or climbing through shipping containers arriving from Africa on the shipping ports of Southern Europe. Sometimes it's day's or weeks in the Alps going through thousands of Spruce sets selecting only the finest. There is no doubt the work is demanding but for Jean, it is a labor of love.
From the steep cliffs of the tropical Hawaiian Islands, the Koa on this LV-10KK Custom is a testament to Jean's dedication sourcing the finest fibers on the planet. For complete photos and specs click here. For other available custom exotic woods, please contact your Larrivée dealer.
Custom European Ash Limited Run!
July 12, 2016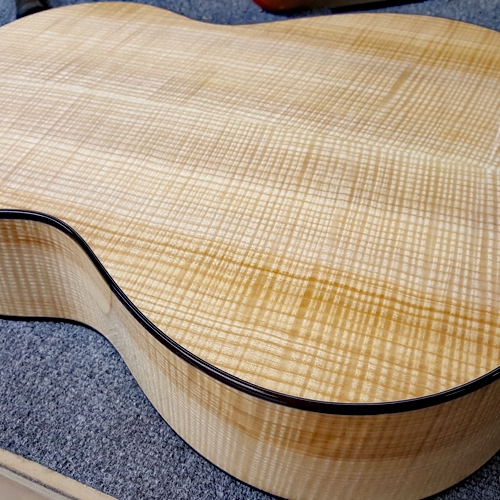 The Larrivée family has done it once again!
Sourcing the globe for some of the finest and most exotic woods available. This time it is a rare find of European Flamed Ash for an 03 Series limited run. When a cutting sound is needed, with power, attack, punch and high harmonics, Euro Ash is candy for your ears. Limited to 23 pieces: 10 Dreadnought, 10 L-Bodies, and 3 Parlors.
The Flamed Euro Ash 03 Series specs will feature an exclusive custom marquetry Ash Leaf headstock inlay design by Wendy Larrivée. Premium Flamed Euro Ash back & sides accented by Indian Rosewood binding. Complete with all bone hardware and signed label, this limited Euro Ash run will ship to dealers in approximately 10 weeks. Retail price for these limited beauties is set at $1998 MSRP.
Below is an up to date list of select dealers currently with orders in. Call and inquire with your dealer today. This list will be updated until all 23 pieces have been sold. Some dealers have multiple orders.
Sound Tech (UK Distributor)
All Music
Connecticut Music
Fretted Frog
Guitars Plus
Martin Music
Melodee Music
Saratoga Guitar
Small Town Music
Starrs Guitars
Area 22 Guitars
Dave's Woodstock Guitars
Music Village
Blues Angel Music
Bucks County
Manufacture Date Requests Now Automated
July 4, 2016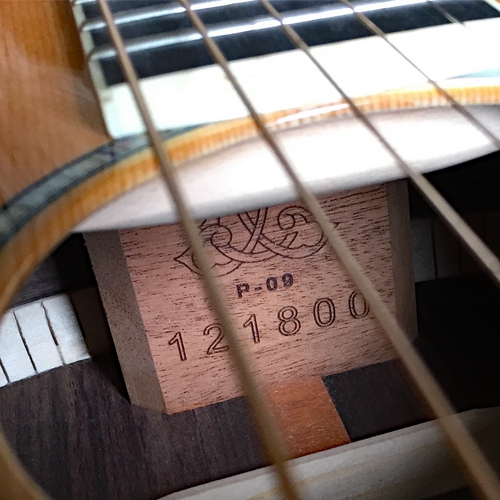 We are pleased to announce the newest
addition to our interactive website. The automated "Manufacture Date Lookup". Until recently, all manufacture date requests had to be processed manually. This was in part due to several serial number format changes over the decades. Now serial number requests can be processed instantly. This is a great tool for dealers on trade-ins, repair techs requiring spec dates and customers looking to purchase used guitars privately. Or simply to know a little more about your stringed companion.
You will find the new Manufacture Date Lookup located in the "Contact" drop down menu. Any guitar that was pre 1978 will require direct contact through Customer Service. No serial numbers were used up until that point, only the last two digits of the year.
LIMITED EAST INDIAN LAUREL SERIES!
May 7, 2016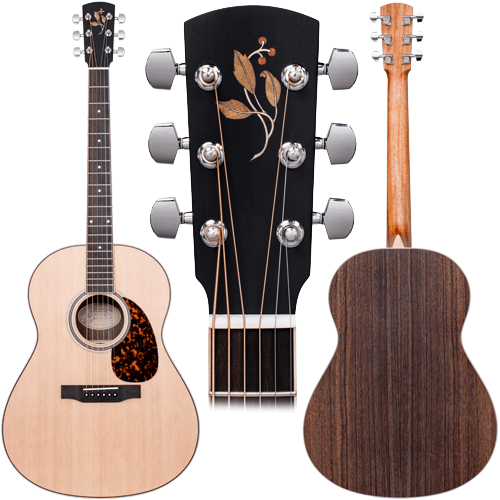 Larrivée's latest Limited Run is now delivering.
East Indian Laurel (Terminalla elliptica) is a spectacular and often overlooked species of tonewood. It has the look and feel to that of East Indian Rosewood and American and English Walnut. Known for its exceptional tap tone quality, Laurel offers up rich overtones and brilliant highs that produce an overall lively and vibrant presence. It's sound is often compared to that of Blackwood or Brazilian Rosewood.
The first of these 20 Limited Laurels featuring this spectacular tonewood are now complete and delivering to select dealers. Complimenting the select East Indian Laurel back & sides is a unique Laurel leaf headstock inlay design. Each is hand inlaid consisting of 15 individually cut pieces, creating an all new and pertinent inlay for this limited run.
Specialty pricing for this Limited 03 Series is set at $2248 MSRP for standard body styles (L, OM, D) and $2548 for LV cutaways. Check with your dealer for availability and order now. Each guitar carries Jean Larrivée's hand written signature on the inside label. Complete specs can be found in our Limited Runs & Special Editions product section on our website.
Please use our Dealer Locator to contact any Select Dealer from the list below:
Acoustic Corner
All Music
A Sound Choice
Cornerstone Music
Dave's Woodstock Music
The Fretted Frog
Guitars Plus
Instrumental Music
Northwest Guitars
Notable Guitars
Willie's American Guitars
LARRIVÉE CUSTOM SHOP
April 8, 2016
For almost 50 years, Larrivée has been pulling off some of the most spectacular custom guitars around.
The Larrivée Custom Shop offers a wide range of options that are listed in our downloadable CUSTOM PRICING list. Imagine, expanding your collection and designing a Larrivée that is your very own. Exotic woods that are not only visibly but sonically spectacular. Add some inlay on your fingerboard, or perhaps a figurine on your headstock. Personalize with a custom label. Fine tune your playability with a custom nut width. You are unique, your acoustic can be too. Visit our Custom Archive Section to view current and archived works.
For more information on custom shop work and ordering, please contact your authorized dealer or email us at Larrivée Service.