News
LIMITED INDIAN BHILWARA'S
February 1, 2020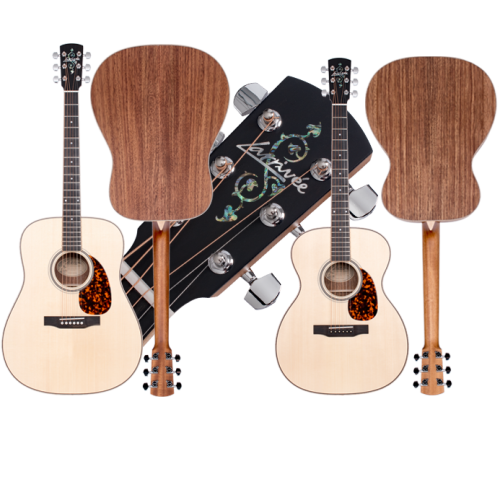 Limited Indian Bhilwara Series OM-03BH & D-03BH will begin dealer delivery mid February 2020. Bhilwara is a Rosewood from India that is sonically comparable to Monkey Pod. We have limited this build to 34 and is available in Dreadnought and OM body styles. We have included custom specs and and specialty pricing to make this series a great value. Specs include:

• Indian Bhilwara back & sides
• Euro Alpine Spruce top (Moonwood)
• Vine/Logo Inlay
• Flamed Maple binding
• Limited 34 builds total
• $2598 MSRP (specialty pricing)
Contact your dealer or Larrivée customer service for info and list of dealers on order.
TOMMY EMMANUEL C-03R-TE CUSTOM
November 1, 2019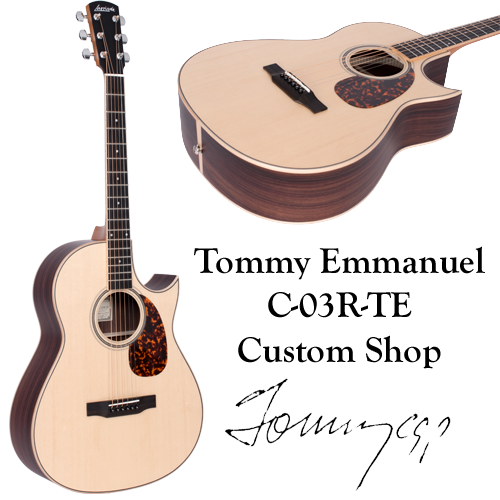 We are announcing the release of our brand new Tommy Emmanuel C-03R-TE Custom. It all started 20 Years ago when Jean Larrivée built a very special custom C-10 12 Fret neck guitar for Tommy. Over the decades it has found it's way into the studio and on many of his recorded albums. Today, we are releasing a tribute to his guitar with the all-new C-03R-TE Custom designed by Jean and Tommy. Key features included with this new model are the Florentine cutaway, 12 fret neck joint, Sitka Spruce over East Indian Rosewood, and hand signed signature label. We are proud to have Tommy's support and look forward to getting these into the hands of players.
The C-03R-TE is now shipping to dealers across the USA and Canada. European and International releas dates are set for Spring 2020. Please contact your nearest dealer for availability or contact Larrivée customer service. For complete spec and photos, please visit the C-03R-TE Custom in our product section. You can find video on the Larrivée YouTube channel.
CITES AMENDMENT FOR ROSEWOOD
October 1, 2019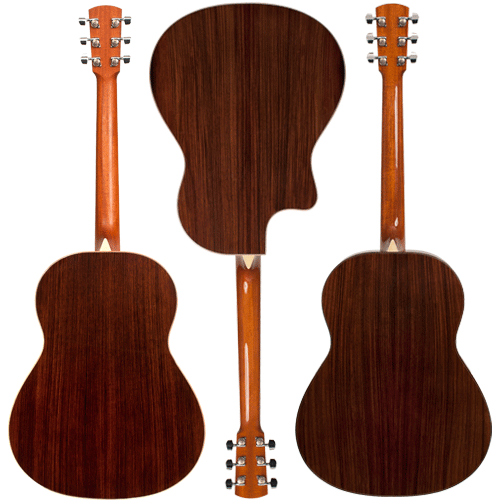 Many of our players are aware of the restrictions that were placed on Rosewood back in October 2016 through international treaty known as the CITES treaty (Convention on International Trade in Endangered Species). In an effort to combat illegal trafficking of one specific African Rosewood varietal,

all

species of Dalbergia spp (Commonly known as Rosewood) were added to Appendix II of the CITES treaty. While this did not outlaw Rosewood, it meant that every Rosewood guitar crossing an international border required both inbound and outbound CITES permits to be issued – a process which can take up to 3 months per guitar and cost several hundred dollars.
This week at the bi-annual CITES convention, a Proposition was brought forth by Canada and the European union to exclude finished musical instruments, finished musical instrument parts, and finished musical instrument accessories from the new regulation. We are pleased to announce that this was passed by the CITES organization on August 28. This change goes into effect 90 days later. After November 28th 2019,

no CITES permit is required when shipping or traveling with a Rosewood Guitar

. (PLEASE NOTE, this amendment does not include the heavily restricted travel of the protected Brazilian Rosewood species Dalbergia nigra which remains on the Appendix I list of highly endangered species).
ALL-NEW SIMPLE-6 SERIES
August 23, 2019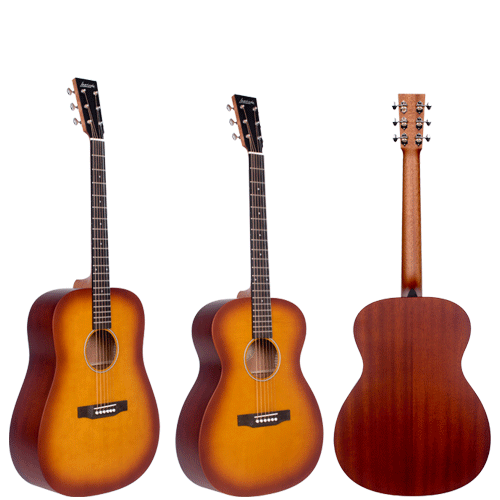 Now completed and shipping to dealers in Canada & USA, the all-new Simple-6 Dreadnought and the Simple-6 OM! The Simple-6 features all-solid African Sipo Mahogany back & sides, single piece Sipo neck, BC Sitka Spruce top, and natural African Ebony finger board and bridge. The Simple-6 employs the same true hand-fit dovetail neck joint as all Larrivée's for superior fit and tonal transfer. We included features like 18:1 open back tuners, scalloped bracing, and our new Sunset Sunburst finish. This model is a true jaw dropping tone generator at an unbelievable value. For complete spec and images, use links below. For list of dealers with Simple-6's on order, please contact Customer Service.
OM SIMPLE-6 SUNSET SUNBURST SERIES
OM-01 WILLIE WATSON SIGNATURE
March 29, 2019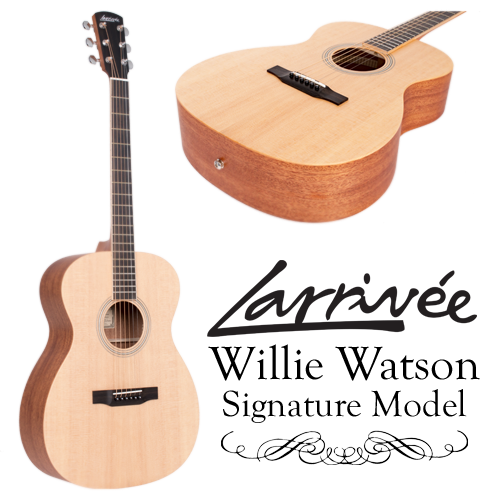 The Willie Watson OM-01 Signature model is now available! Following the success of the Willie Watson OM-01 Reissue Limited Editions, Larrivée is now releasing a limited number of WW Signature models. Left handed models are available. The OM-01's can be found exclusively through WillieWatson.com for $1199 including shipping inside continental USA.
The WW OM-01's are built in America, like all Larrivée's, using only the finest all-solid tone woods on the planet. African Khaya back & sides, BC Sitka Spruce top, African Ebony fingerboard, bridge and headstock overlay are among specs. For complete spec click here. Larrivée is proud to release the WW Signature model and as Willie would say, they "ring like silver and shine like gold".
T-SERIES PRO TRAVEL GUITAR
March 16, 2019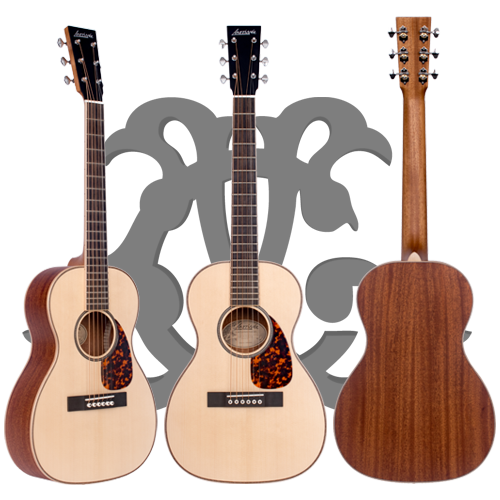 Larrivée has just launched our new and cleverly designed T-40 Mahogany and T-40R Rosewood pro travel guiitar. This six string tenor size guitar has a slightly smaller body than our Parlor and O-Body, featuring a custom 22.8" scale, full 14 frets to the body and built for standard tuning. There is no decreased body depth which gives this cannon lots of room to breathe. This is a real #tonegenerator that will blow away any other guitar in its size. For complete images and specs, click here.
Standard on all Larrivées, T models will feature all solid wood construction, true hand-fit dovetail neck joints for superior fit, finish and tone, and of course, built in America. Tenor models will ship with soft shell travel case and start at $1658 MSRP for Mahogany. Available in all top and back combinations. Contact your dealer for custom order. First run will begin shipping this June.

INLAID WORKS OF ART
January 30, 2019
In the late 1970's, Larrivée was one of the first to explore the modern day creation of inlaid works on headstocks. Today, Wendy Larrivée continues to create striking works on a canvas quite different from most artists. Have a look at some of her works both current and archived on our Inlay page. For more information on inlays and how to acquire one, contact info@larrivee.com.
Cloepatra, originally created in the late 1970's, is a breathtaking work a beauty. After a 35 year hiatus, she has been recreated and now adorning our headstocks once again. Every inlay Wendy Larrivée creates will always have unique engraving touches, so no two inlays are ever identical. She has been the primary force behind our inlays for nearly four decades. Maybe it's time to consider a masterpiece for your collection. Larrivée Inlays
PRO SHOP GIFT IDEAS!
November 10, 2018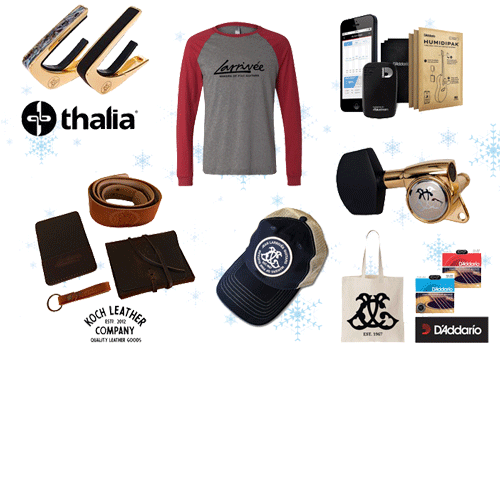 The Larrivée Authentic Pro Shop has grown over the years and now has a fantastic selection of many branded items. If you are shopping for a friend or family member and not sure what to get, every year we make suggestions and put them in our Gift Ideas section. These are items that any Larrivée player will love. All gift items are returnable after the holidays under our return policy. So no pressure to impress. Coupon Gift Codes are also purchasable in $50 increments simply by contacting info@larrivee.com or by calling our customer service line 805-612-0326. Happy Holidays!
THERE'S A NEW LEGEND IN TOWN
September 15, 2018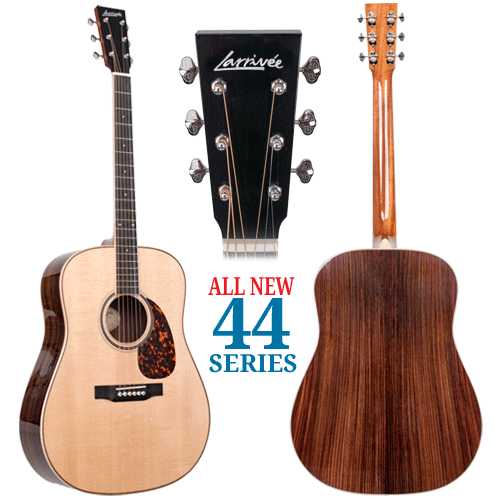 High-gloss Legacy Series!
We took our legendary 40 Series and finished it with our industry leading pure acrylic urethane high-sheen gloss. Then introduced it at an incredible value and called it a 44. For specs and details please see our D-44R on display in our product section.
Available in all body styles

High-Gloss Finish

Solid East Indian Rosewood

Hand built in America

$2774 MSRP ($2548 Mahogany)
If you think you loved the 40, wait until you get a 44 in your hands.
LIMITED EDITION "JCL" TUNERS
September 5, 2018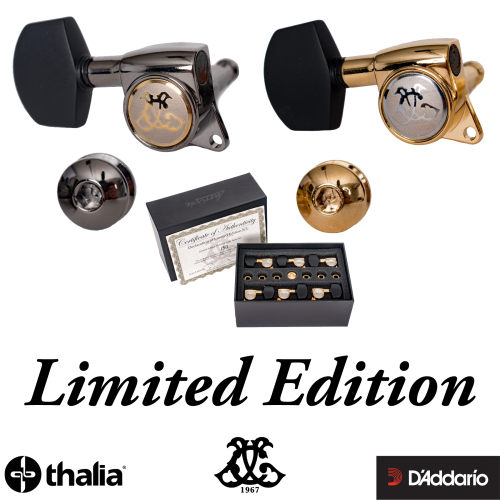 All new "JCL" Limited Edition Tuner packages are available now! Swap out your older, standard size tuners with these gorgeous 18:1 "JCL" Black Chrome or Polished Gold sets. Each set comes complete with black, machined aluminum buttons that perform as good as they feel. For the detailists out there, included is a matching end-pin for the complete look. Every tuner set and matching end-pin is packaged in a quality collector box that comes with a personally signed declaration. Only 50 sets of each, Black Chrome and Polished Gold, will be released as Limited Edition packages. Both sets are drop-in replacements for any standard size "Larrivée" or "JCL" branded tuners.
Both Limited and Deluxe packages are offered. Every package will include a set of D'Addario EXP16 12-53's or EXP17 13-56's and a custom Black on Black "JCL" jersey. Deluxe packages will include a luxurious, matching Thalia Capo with a choice of abalone or ebony trim and a complete Bone Setup Kit with compensated saddle, nut, and bridge pins. All orders will ship the week of Sept 17th. Shipping is included in all orders.
DELUXE PACKAGE OFFER IS NOW OVER. Limited sets are still available in BLACK CHROME & POLISHED GOLD.