News
ALL-NEW LARRIVÉE FINGERSTYLE SERIES
June 30, 2023
Welcome to our next Fingerstyle Style Series, the Martin Moro Edition. Over the next few months, we'll release seven amazing new fingerstyle videos featuring European finger stylist Martin Moro. Martin is a multi-instrumentalist, composer, producer, and arranger who is no stranger to quality performance and sound. Over the next seven episodes, Martin will be showcasing a variety of Larrivée models such as the D-03, OM-40R, BT-03 Baritone, L-09, and the L-03-12 String. Martin is kicking things off in this episode with an OM-40R East Indian Rosewood model.
ALL-NEW 2023 BAKER-T IS HERE!
November 4, 2022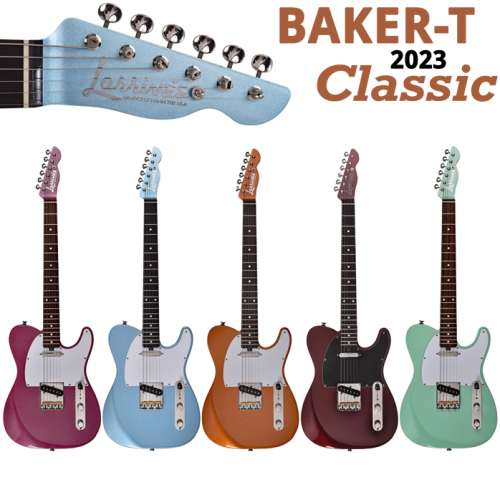 The all-new 2023 Baker-T Classic is our latest precision-built American-made electric guitar and is shipping to dealers now. Don't miss out. Contact your dealer today for availability. Its fantastic new features include our much sought-after pickup design by Matthew Larrivée, custom polished stainless steel hardware, and exclusive vintage electronics. Check out our electric page for more discussion on all-new features.
The Baker -T Classic comes in five stunning new finishes; Burgundy Mist, Ice Blue Metallic, Copper Metallic, Diablo Red, and Surf Green. We paint the headstocks to match the body and stamp them with a custom metal vapor logo in chrome and black chrome. All headstocks are fit with high-end Gotoh SDS-510 tuners for ultra-smooth precision. Capping it all in is a multi-layer CNC-made pickguard secured with brass inserts and machine screws.
Larrivée Fingerstyle Series - pt 8
August 21, 2022
Larrivée Fingerstyle Series - pt 8 • Travis Bowman feat. Matt Thomas • "The Spider"
The "Spider" is a sonic journey over cascading waterfalls and carving through jewel-blue rivers. Take a drink, it's very refreshing.
2018 Winfield Fingerstyle champion,
Travis Bowman
, flew to Virginia to do a run of shows with his good friend and supported Larrivée artist
Matt Thomas
. Matt introduced Travis to his custom Larrivée's, and this creation spawned! Travis decided to play the guitar that Matt had won the 2019 Fingerstyle Collective International Championship with.
Guitars played are: *C-10 12-fret Custom (Mastergrade Austrian Red Moonspruce/Mastergrade Ziricote) *CS-09 Matt Thomas Limited Series (12-fret, Mastergrade Sitka/Mastergrade Ziricote, custom Octopus Inlay by Wendy Larrivée)
Song: "The Spider" by Travis Bowman feat. Matt Thomas Recording and Production by Matt Thomas Video shot with Sony A7C 35mm 1.8f - Ronin DJI RSC2 Recorded with Schoeps CMC6 MK4 - Pendulum SPS1 - UA Apollo X4 - Cubase
LARRIVÉE DIGITAL CATALOG
August 1, 2022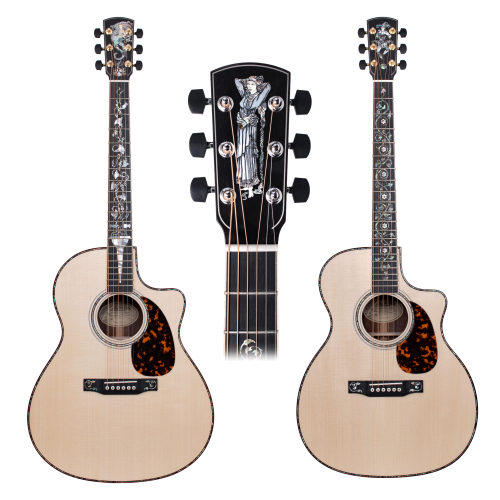 The Larrivée digital catalog is now available online. You can find it in the Price Lists folder in our Where To Buy section of the website. You can use it to familiarize yourself with our lines and what you can expect to find in each Series. Use the Price List and Custom Pricing pdf's to build your own Larrivée to the spec you want. For more information contact Larrivée Support or simply talk to your Larrivée dealer.
RYAN SELAN • THE LAGOONS
February 3, 2022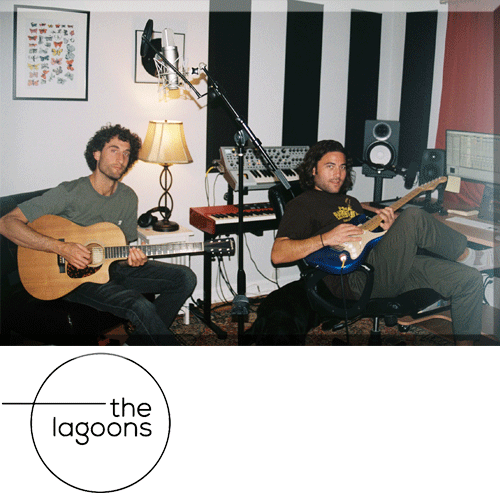 It is a great pleasure to welcome Ryan Selan and brother Joey Selan (The Lagoons) to our family of supported artists. Sometimes you don't have to look further than your own backyard to find some of the most outstanding new music to hit your streaming devices. Influenced by the likes of Steely Dan, Fleetwood Mac, and The Beatles, The Lagoons began writing their tasty Indie-style tracks in 2014. No strangers to sound quality and production work, you can hear Ryan's LV-03 Mahogany with LR Baggs electronics mixed throughout their catalog of songs. Ryans LV-03 provides layers of subdued bass, floating mids, and soft highs to their overall soundscape. Click on Ryan's bio page and find links to stream their incredible works. Some of our favorites include Daybreak, Love to Love You, Something Good, and many more. Oh! And Joey's vocals are simply icing on the cake. Enjoy!
Pro Shop Holiday Shopping!
October 31, 2021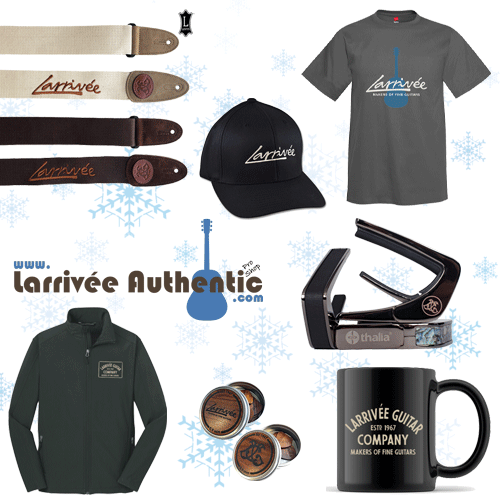 The Larrivée Authentic Pro Shop is now fully stocked with new items and old favorites just in time for the holiday season. Shop now and get the sizes you need and the items you want. Use the red Gift Ideas button for our recommendations when shopping for friends or loved ones. If you have any questions about items and sizes, feel free to contact customer service, we will get you answers in a timely manner.
Have a safe and happy holiday season from all of us at Larrivée!
BAKER-T 2020 PRO NOW DELIVERING
November 20, 2020
The all-new, redesigned Baker-T Pro is delivering now. Contact your dealer for order and availability. You can use our dealer locator to find one near you. Numbers are limited, and the next run won't be available again until 2021. Caps for this run will be limited to Spalted Maple and Brazilian Rosewood. For custom caps, pre-order now for 2021.
Watch Heartbreaker Guitars with Jason Kertson review their recent acquisition of the first four Baker-T Pro's to hit the retail market.
TOMMY EMMANUEL "THE WIDE OCEAN"
April 16, 2020
Tommy Emmanuel's latest recording now out on YouTube. The title track "The Wide Ocean" features Tommy's custom Larrivée C-10 12 fret "Angel". The guitar was built for Tommy over two decades ago and has since found its way onto many recorded studio albums and select live performances. Last year Tommy worked with Larrivée to design and create our newest model the Custom C-03R-TE "Tommy Emmanuel". The model echoes the fundamental features of Tommy's original C-10. It is built from East Indian Rosewood back & sides, British Columbia Sitka Spruce top, 12 fret neck joint, and the exquisite Florentine cutaway. Put them together and you have one incredible fingerstyle tone generator. For complete spec and images, check out the C-03R-TE Custom in our product section. The model is now readily available in dealers across North America and Europe. Contact your dealer today.
2020 BAKER-T PRO
April 3, 2020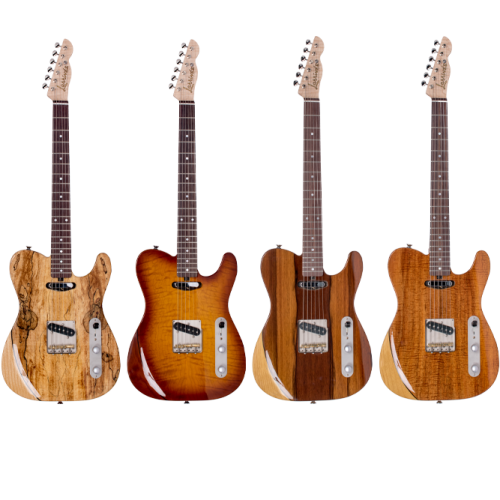 The all-new, redesigned Baker-T Pro has been released! First displayed at the January 2020 NAMM show with four original prototypes, we are very please by it's reception. The new Baker-T is a Pro guitar with pro electronics that delivers pro performance. We also designed it to be completely serviceable. Something we recognize is imperative to any serious player who demands the finest. Larrivée made no compromise throughout the Baker-T's build.
The 2020 Baker-T is available with two options: Choice of top cap wood and choice of neck position pickup. Guitars will begin shipping to dealer this April. Contact your dealer for orders and availability. You can also contact Larrivée customer service for list of dealers on order. For complete spec and information, please visit our Electric page here.
LIMITED INDIAN BHILWARA'S
February 1, 2020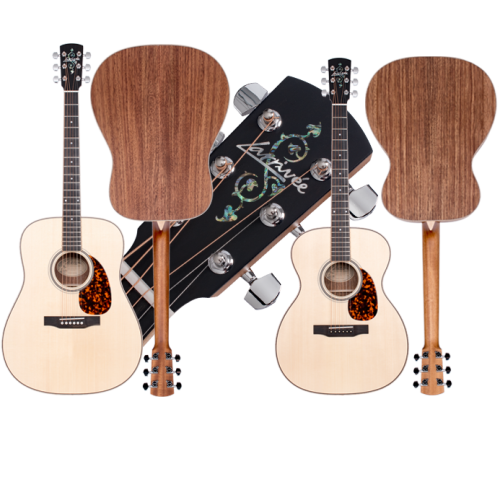 Limited Indian Bhilwara Series OM-03BH & D-03BH will begin dealer delivery mid February 2020. Bhilwara is a Rosewood from India that is sonically comparable to Monkey Pod. We have limited this build to 34 and is available in Dreadnought and OM body styles. We have included custom specs and and specialty pricing to make this series a great value. Specs include:

• Indian Bhilwara back & sides
• Euro Alpine Spruce top (Moonwood)
• Vine/Logo Inlay
• Flamed Maple binding
• Limited 34 builds total
• $2598 MSRP (specialty pricing)
Contact your dealer or Larrivée customer service for info and list of dealers on order.