News
LARRIVÉE DIGITAL CATALOG
August 1, 2022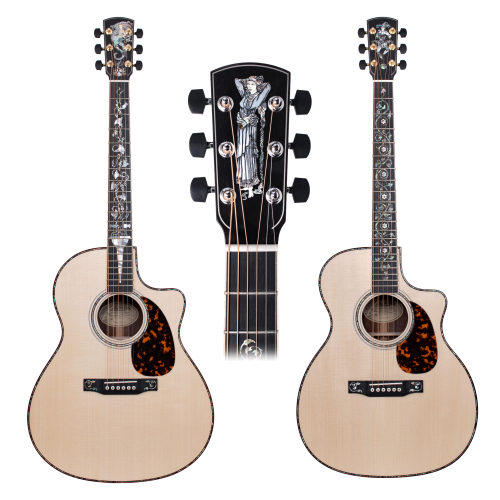 The Larrivée digital catalog is now available online. You can find it in the Price Lists folder in our Where To Buy section of the website. You can use it to familiarize yourself with our lines and what you can expect to find in each Series. Use the Price List and Custom Pricing pdf's to build your own Larrivée to the spec you want. For more information contact Larrivée Support or simply talk to your Larrivée dealer.
RYAN SELAN • THE LAGOONS
February 3, 2022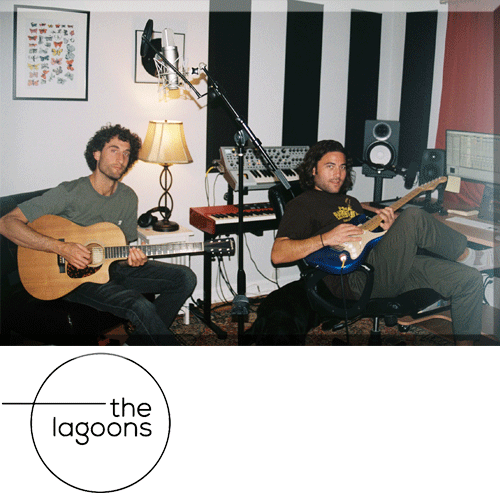 It is a great pleasure to welcome Ryan Selan and brother Joey Selan (The Lagoons) to our family of supported artists. Sometimes you don't have to look further than your own backyard to find some of the most outstanding new music to hit your streaming devices. Influenced by the likes of Steely Dan, Fleetwood Mac, and The Beatles, The Lagoons began writing their tasty Indie-style tracks in 2014. No strangers to sound quality and production work, you can hear Ryan's LV-03 Mahogany with LR Baggs electronics mixed throughout their catalog of songs. Ryans LV-03 provides layers of subdued bass, floating mids, and soft highs to their overall soundscape. Click on Ryan's bio page and find links to stream their incredible works. Some of our favorites include Daybreak, Love to Love You, Something Good, and many more. Oh! And Joey's vocals are simply icing on the cake. Enjoy!
Pro Shop Holiday Shopping!
October 31, 2021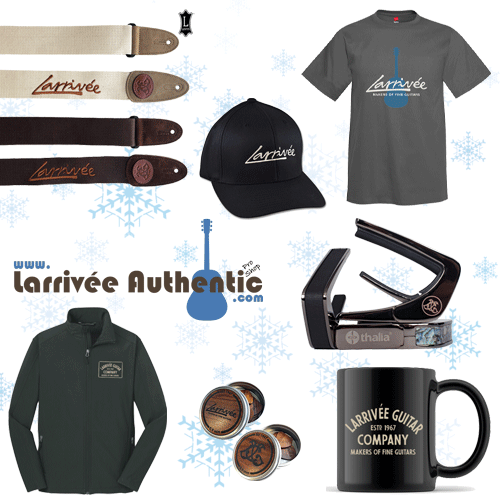 The Larrivée Authentic Pro Shop is now fully stocked with new items and old favorites just in time for the holiday season. Shop now and get the sizes you need and the items you want. Use the red Gift Ideas button for our recommendations when shopping for friends or loved ones. If you have any questions about items and sizes, feel free to contact customer service, we will get you answers in a timely manner.
Have a safe and happy holiday season from all of us at Larrivée!
BAKER-T 2020 PRO NOW DELIVERING
November 20, 2020
The all-new, redesigned Baker-T Pro is delivering now. Contact your dealer for order and availability. You can use our dealer locator to find one near you. Numbers are limited, and the next run won't be available again until 2021. Caps for this run will be limited to Spalted Maple and Brazilian Rosewood. For custom caps, pre-order now for 2021.
Watch Heartbreaker Guitars with Jason Kertson review their recent acquisition of the first four Baker-T Pro's to hit the retail market.
TOMMY EMMANUEL "THE WIDE OCEAN"
April 16, 2020
Tommy Emmanuel's latest recording now out on YouTube. The title track "The Wide Ocean" features Tommy's custom Larrivée C-10 12 fret "Angel". The guitar was built for Tommy over two decades ago and has since found its way onto many recorded studio albums and select live performances. Last year Tommy worked with Larrivée to design and create our newest model the Custom C-03R-TE "Tommy Emmanuel". The model echoes the fundamental features of Tommy's original C-10. It is built from East Indian Rosewood back & sides, British Columbia Sitka Spruce top, 12 fret neck joint, and the exquisite Florentine cutaway. Put them together and you have one incredible fingerstyle tone generator. For complete spec and images, check out the C-03R-TE Custom in our product section. The model is now readily available in dealers across North America and Europe. Contact your dealer today.
2020 BAKER-T PRO
April 3, 2020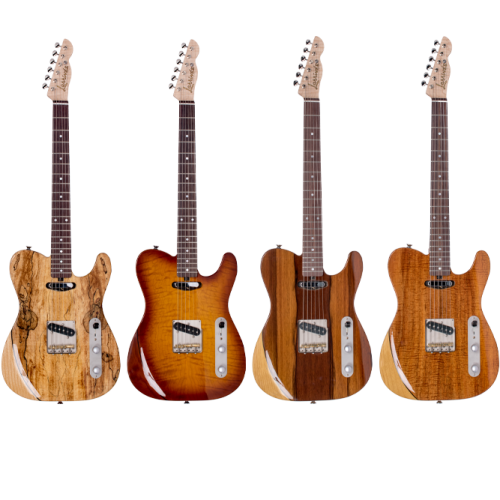 The all-new, redesigned Baker-T Pro has been released! First displayed at the January 2020 NAMM show with four original prototypes, we are very please by it's reception. The new Baker-T is a Pro guitar with pro electronics that delivers pro performance. We also designed it to be completely serviceable. Something we recognize is imperative to any serious player who demands the finest. Larrivée made no compromise throughout the Baker-T's build.
The 2020 Baker-T is available with two options: Choice of top cap wood and choice of neck position pickup. Guitars will begin shipping to dealer this April. Contact your dealer for orders and availability. You can also contact Larrivée customer service for list of dealers on order. For complete spec and information, please visit our Electric page here.
LIMITED INDIAN BHILWARA'S
February 1, 2020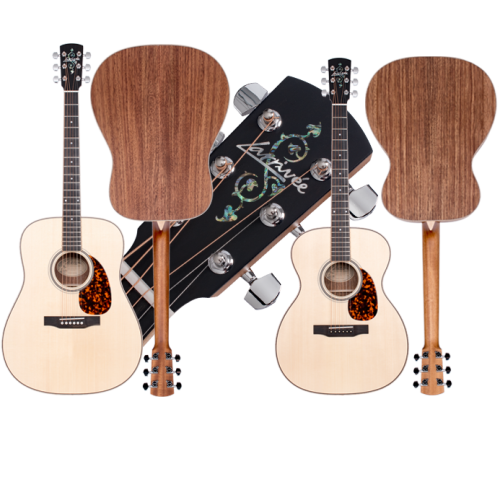 Limited Indian Bhilwara Series OM-03BH & D-03BH will begin dealer delivery mid February 2020. Bhilwara is a Rosewood from India that is sonically comparable to Monkey Pod. We have limited this build to 34 and is available in Dreadnought and OM body styles. We have included custom specs and and specialty pricing to make this series a great value. Specs include:

• Indian Bhilwara back & sides
• Euro Alpine Spruce top (Moonwood)
• Vine/Logo Inlay
• Flamed Maple binding
• Limited 34 builds total
• $2598 MSRP (specialty pricing)
Contact your dealer or Larrivée customer service for info and list of dealers on order.
TOMMY EMMANUEL C-03R-TE CUSTOM
November 1, 2019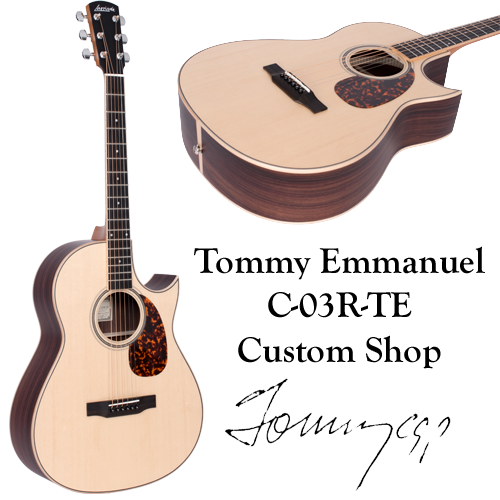 We are announcing the release of our brand new Tommy Emmanuel C-03R-TE Custom. It all started 20 Years ago when Jean Larrivée built a very special custom C-10 12 Fret neck guitar for Tommy. Over the decades it has found it's way into the studio and on many of his recorded albums. Today, we are releasing a tribute to his guitar with the all-new C-03R-TE Custom designed by Jean and Tommy. Key features included with this new model are the Florentine cutaway, 12 fret neck joint, Sitka Spruce over East Indian Rosewood, and hand signed signature label. We are proud to have Tommy's support and look forward to getting these into the hands of players.
The C-03R-TE is now shipping to dealers across the USA and Canada. European and International releas dates are set for Spring 2020. Please contact your nearest dealer for availability or contact Larrivée customer service. For complete spec and photos, please visit the C-03R-TE Custom in our product section. You can find video on the Larrivée YouTube channel.
CITES AMENDMENT FOR ROSEWOOD
October 1, 2019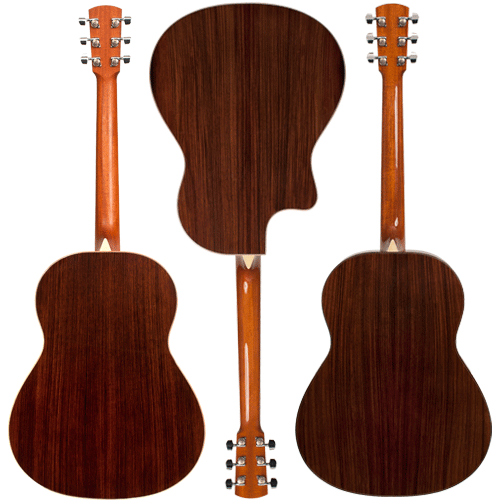 Many of our players are aware of the restrictions that were placed on Rosewood back in October 2016 through international treaty known as the CITES treaty (Convention on International Trade in Endangered Species). In an effort to combat illegal trafficking of one specific African Rosewood varietal,

all

species of Dalbergia spp (Commonly known as Rosewood) were added to Appendix II of the CITES treaty. While this did not outlaw Rosewood, it meant that every Rosewood guitar crossing an international border required both inbound and outbound CITES permits to be issued – a process which can take up to 3 months per guitar and cost several hundred dollars.
This week at the bi-annual CITES convention, a Proposition was brought forth by Canada and the European union to exclude finished musical instruments, finished musical instrument parts, and finished musical instrument accessories from the new regulation. We are pleased to announce that this was passed by the CITES organization on August 28. This change goes into effect 90 days later. After November 28th 2019,

no CITES permit is required when shipping or traveling with a Rosewood Guitar

. (PLEASE NOTE, this amendment does not include the heavily restricted travel of the protected Brazilian Rosewood species Dalbergia nigra which remains on the Appendix I list of highly endangered species).
ALL-NEW SIMPLE-6 SERIES
August 23, 2019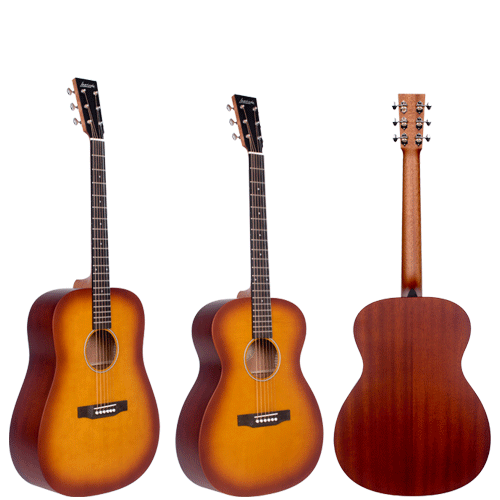 Now completed and shipping to dealers in Canada & USA, the all-new Simple-6 Dreadnought and the Simple-6 OM! The Simple-6 features all-solid African Sipo Mahogany back & sides, single piece Sipo neck, BC Sitka Spruce top, and natural African Ebony finger board and bridge. The Simple-6 employs the same true hand-fit dovetail neck joint as all Larrivée's for superior fit and tonal transfer. We included features like 18:1 open back tuners, scalloped bracing, and our new Sunset Sunburst finish. This model is a true jaw dropping tone generator at an unbelievable value. For complete spec and images, use links below. For list of dealers with Simple-6's on order, please contact Customer Service.
OM SIMPLE-6 SUNSET SUNBURST SERIES