News
LIMITED EAST INDIAN LAUREL SERIES!
May 7, 2016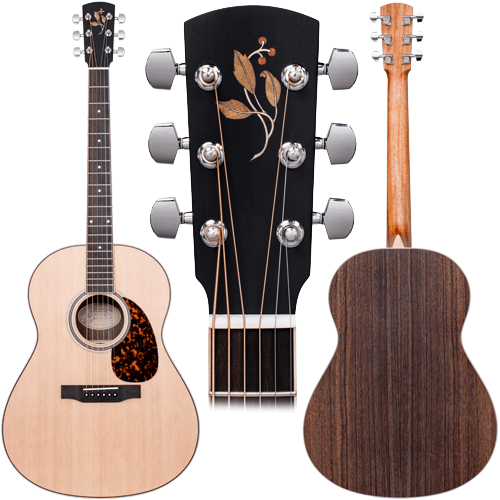 Larrivée's latest Limited Run is now delivering.
East Indian Laurel (Terminalla elliptica) is a spectacular and often overlooked species of tonewood. It has the look and feel to that of East Indian Rosewood and American and English Walnut. Known for its exceptional tap tone quality, Laurel offers up rich overtones and brilliant highs that produce an overall lively and vibrant presence. It's sound is often compared to that of Blackwood or Brazilian Rosewood.
The first of these 20 Limited Laurels featuring this spectacular tonewood are now complete and delivering to select dealers. Complimenting the select East Indian Laurel back & sides is a unique Laurel leaf headstock inlay design. Each is hand inlaid consisting of 15 individually cut pieces, creating an all new and pertinent inlay for this limited run.
Specialty pricing for this Limited 03 Series is set at $2248 MSRP for standard body styles (L, OM, D) and $2548 for LV cutaways. Check with your dealer for availability and order now. Each guitar carries Jean Larrivée's hand written signature on the inside label. Complete specs can be found in our Limited Runs & Special Editions product section on our website.
Please use our Dealer Locator to contact any Select Dealer from the list below:
Acoustic Corner
All Music
A Sound Choice
Cornerstone Music
Dave's Woodstock Music
The Fretted Frog
Guitars Plus
Instrumental Music
Northwest Guitars
Notable Guitars
Willie's American Guitars
LARRIVÉE CUSTOM SHOP
April 8, 2016
For almost 50 years, Larrivée has been pulling off some of the most spectacular custom guitars around.
The Larrivée Custom Shop offers a wide range of options that are listed in our downloadable CUSTOM PRICING list. Imagine, expanding your collection and designing a Larrivée that is your very own. Exotic woods that are not only visibly but sonically spectacular. Add some inlay on your fingerboard, or perhaps a figurine on your headstock. Personalize with a custom label. Fine tune your playability with a custom nut width. You are unique, your acoustic can be too. Visit our Custom Archive Section to view current and archived works.
For more information on custom shop work and ordering, please contact your authorized dealer or email us at Larrivée Service.
SD's NOW AVAILABLE IN 40 LEGACY SERIES
March 17, 2016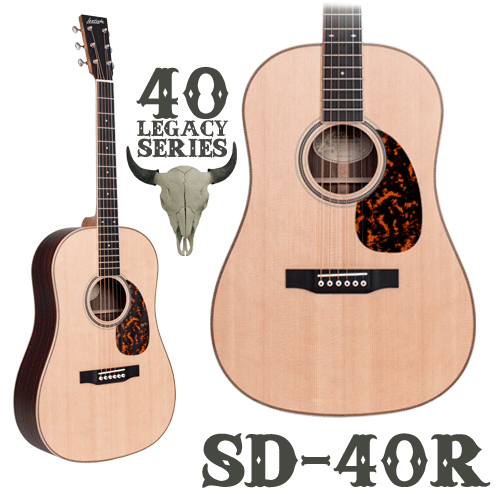 SD-40 & SD-40R have just been added to our best selling 40 Series.
Our 40 Series has been gaining popularity for several years along with it's revolutionary new scalloped parabolic bracing system. Winning accolades and reviews by players and writers respectively. Our newest model to the series is the Slope Dreadnought SD body style, available in Mahogany and Indian Rosewood.
The SD body style was the earliest of dreadnought shaped guitars with soft shoulders and elongated body. Along with standard traditional features like rope purfling and open back tuners, the SD features a 12 fret neck joint and 1-3/4" nut width that make this guitar very player friendly. You will find complete detailed specs and photos for each model by clicking here SD-40R and here SD-40.
C-10 CUSTOM * ROBIN HOOD RETURNS
February 18, 2016
Inlays have always played a big part
throughout our history.
Over time, inlays come and inlays go. Some like the "Mucha Lady" and "Tambourine Girl" have been admired and found their stay for decades. Then you have inlays such as "Robin Hood". Who once adorned Presentation headstocks throughout the late 70's to late 80's, captivating the admiration and imagination of many owners of it's time.
For our 49th year, and after several decades on hiatus, Robin Hood returns to grace our custom inlaid headstocks once again. Have a look at this incredible C-10 "Robin Hood" Custom that will surely contribute to any already existing Guitar Acquisition Syndrome you may be experiencing! For more Larrivée customs and further G.A.S., have a look in our Custom Archive section.
The All New Legacy Series
February 8, 2016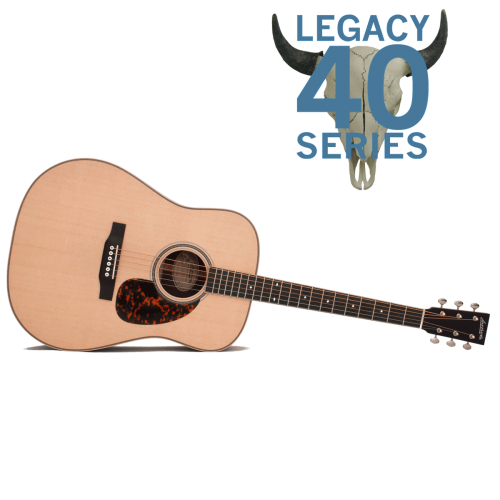 The revolutionary new 40 Series features our innovative "Scalloped Parabolic Hybrid" bracing system design. Based on our "X-Brace" design, Jean has blended it with a non-symmetrical scalloped lateral cross-bracing pattern. This means maximum strength using the least amount of material. It's a build that allows even further vibration of the soundboard, while still offering a controlled bass response. Some call it the low end "growl". The 40 Series are built in America using all solid wood and feature detailed upgrades like bone bridge pins, bone nut and saddle, diamond fingerboard dots and Grover 18:1 open back tuners. Jean's exciting new design means a fresh new sound that is sure to appeal to traditional and long-time Larrivée players alike. Available in Dreadnought, OM, 000, 00, and 0 body styles. Mahogany and Rosewood are standard. Custom exotic woods are available upon request. Premier Guitar Magazine review.
"JCL" 18:1 CUSTOM EDITION TUNERS
January 11, 2016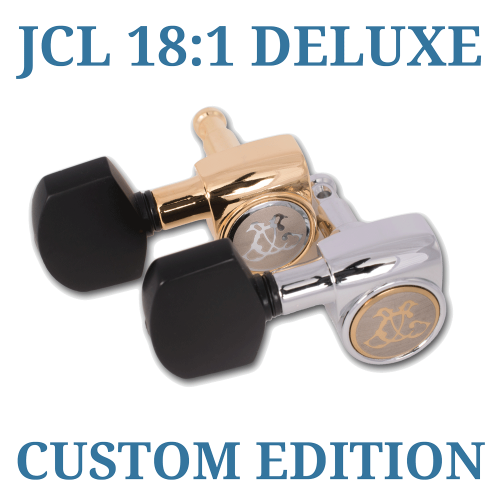 NOW AVAILABLE for custom order and through Larrivée Authentic store! Available in chrome and gold, these slick new 18:1 JCL's feature our long awaited black aluminum buttons. They are easily dropped in and swapped out with our standard Larrivée tuners, as well as current JCL's.
Custom Edition JCL chrome with black aluminum buttons will offered as a custom upgrade for $89. Gold with black aluminum buttons will be $99 with matching gold end pin. Mini's for Parlor and 12 Strings are also available.
For custom upgrades to your guitar, please contact your dealer. For purchase of machine heads direct, please see our "Larrivee Authentic" online store.
SHOP ONLINE WITH LARRIVÉE AUTHENTIC!
December 10, 2015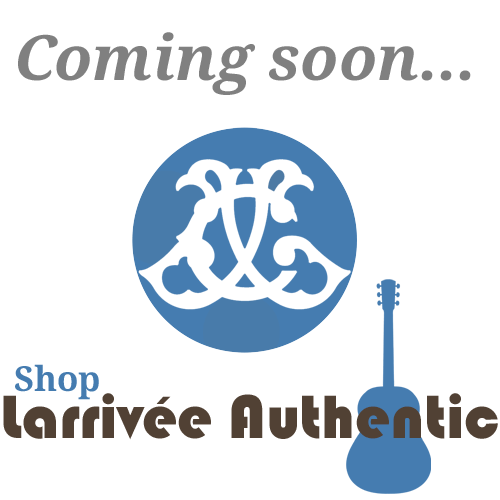 Begining Friday, December 18th, you can log in and shop online here at Larrivée.com
Find everything from cool new wearables, to accessories, upgrades and replacement parts. Everything you need and more. Paying will be made easy with PayPal and major credit cards. A $10 flat rate shipping fee inside the USA is waved for orders over $100.
Stop by next week and see what we have to offer. Now, not only can you play a Larrivée, but wear your Larrivée with pride too! #LoveMyLarrivee
P-01 REISSUE SHIPPING TO DEALERS NOW!
November 3, 2015
OCT 9, 2015 Warner Music releases Commander Chris Hadfield's album Songs From a Tin Can— the first album ever recorded in space.
It's an out-of-this-world partnership we're especially proud of.

When the Space Shuttle Discovery reached the International Space Station on AUG 10, 2001, few were aware it was carrying a special piece of cargo. Along with a load of tools and supplies, the STS-105 mission was also bringing a Larrivée P-01 Parlor guitar — part of a NASA psychology program designed to help the astronauts better cope with living life in space.

A talented musician, Commander Chris Hadfield played it frequently, and used to it record a version of David Bowie's Space Oddity - the first ever music video shot in space, seen by millions around the world. He also used the P-01 to lay down the initial tracks for his new record, Songs From A Tin Can. Watch the premier track video for the album "FEET UP".

Larrivée is extremely proud to be a part of these first space travel folk songs. To celebrate we're releasing a limited reissue of the P-01 down here on earth. The guitar comes with a signed certificate of authenticity and a copy of Songs From a Tin Can, personally signed by Commander Hadfield.
OWN A PIECE OF MUSICAL HISTORY. CONTACT YOUR DEALER TODAY - $1549 MSRP