News
LIMITED EAST INDIAN LAUREL SERIES!
May 7, 2016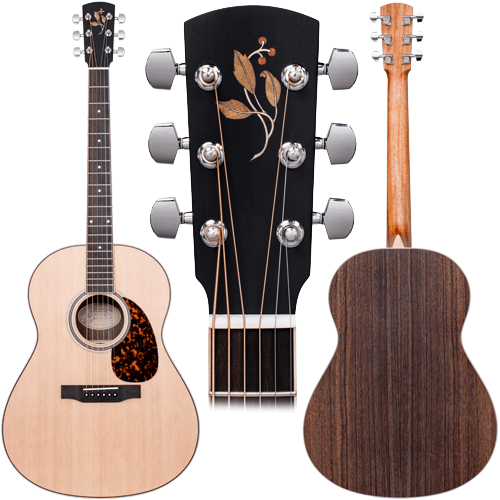 Larrivée's latest Limited Run is now delivering.
East Indian Laurel (Terminalla elliptica) is a spectacular and often overlooked species of tonewood. It has the look and feel to that of East Indian Rosewood and American and English Walnut. Known for its exceptional tap tone quality, Laurel offers up rich overtones and brilliant highs that produce an overall lively and vibrant presence. It's sound is often compared to that of Blackwood or Brazilian Rosewood.
The first of these 20 Limited Laurels featuring this spectacular tonewood are now complete and delivering to select dealers. Complimenting the select East Indian Laurel back & sides is a unique Laurel leaf headstock inlay design. Each is hand inlaid consisting of 15 individually cut pieces, creating an all new and pertinent inlay for this limited run.
Specialty pricing for this Limited 03 Series is set at $2248 MSRP for standard body styles (L, OM, D) and $2548 for LV cutaways. Check with your dealer for availability and order now. Each guitar carries Jean Larrivée's hand written signature on the inside label. Complete specs can be found in our Limited Runs & Special Editions product section on our website.
Please use our Dealer Locator to contact any Select Dealer from the list below:
Acoustic Corner
All Music
A Sound Choice
Cornerstone Music
Dave's Woodstock Music
The Fretted Frog
Guitars Plus
Instrumental Music
Northwest Guitars
Notable Guitars
Willie's American Guitars