News
LARRIVÉE & SBAIC PRESENT - TOMMY EMMANUEL!
May 11, 2017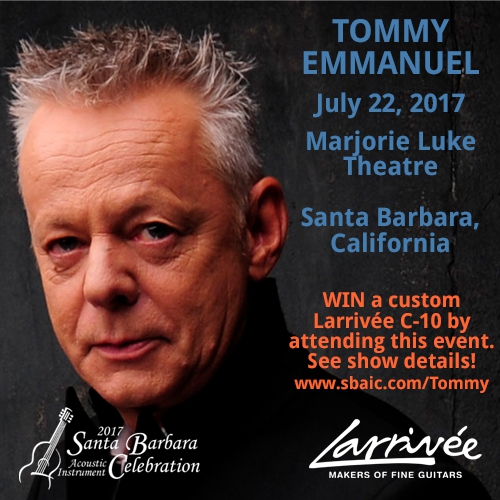 As part of our 50th Anniversary celebration this year, Larrivée Guitars and the Santa Barbara Acoustic Instrument Celebration present to you the great Tommy Emmanuel. Tommy will play a fabulous 2 set concert on July 22, 2017 in beautiful Santa Barbara for his only central coast date this summer.
Larrivée is undergoing a sole re-creation of Tommy's custom C-10 guitar, which Tommy will play, sign and GIVE AWAY to one lucky orchestra level ticket buyer. This guitar is not available anywhere but at this show and never re-created before. $15 from every ticket will be donated to the Celebration Lutherie Endowment Fund and Pay It Forward Bank, which assists musicians' and luthiers' air travel expenses so that we can bring you the finest music and craftsmanship from around the world. But you can only win it if you come!
Purchase your tickets now while seats remain. For more information and event details, please go to the SBAIC Tommy page or go direct to ticketing here.